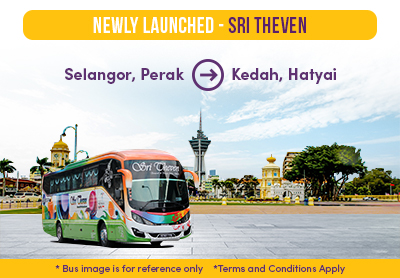 Easybook's Newly-Launched Sri Theven Express
July 26th, 2018
Good news! You can book Malaysian bus services from Selangor or Ipoh to Kedah or Hatyai in Thailand with Sri Theven Express at Easybook now!
Sri Theven Travel & Tours Sdn. Bhd is a bus operator based in Selangor that is equipped with 30 comfortable seats with ample leg space and air conditioning systems. This is to ensure passengers have a comfortable and enjoyable experience riding with Sri Theven Express.
Details of their popular bus routes are shown as below:
Pick up points: Sungai Besar, Sabak Bernam (Selangor), Teluk Intan, Simpang 4 Hutan Melintang, Sri Manjung, Pantai Remis (Perak)
Drop off points: Bukit Kayu Hitam, Changlun (Kedah), Hatyai (Thailand)
Check out the new bus routes available at Easybook.com and book Sri Theven Express bus tickets for your next trip now.