About Berjaya Times Square Stop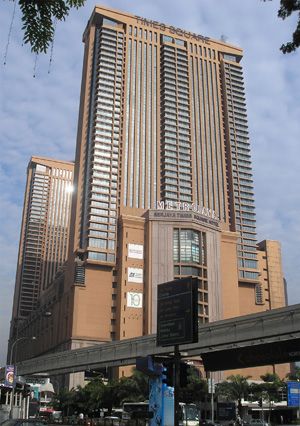 So many tourists travel in and out of Kuala Lumpur on a daily basis and taking the bus is one of the most convenient ways to get around whether you are coming in from Singapore or leaving the city to go to other states in Malaysia. For travellers that prefers convenience when travelling to KL, Berjaya Times Square Bus Stop is one of the perfect examples as it is convenient and easy to find, even if you have never been to Kuala Lumpur. Whether you plan to travel from KL to Singapore or vice versa, hop on to Easybook's website or even mobile app to get your bus ticket without even leaving the comfort of your couch. Say goodbye to queuing up for bus tickets at the counter!
Popular Bus Routes
Getting to Berjaya Times Square Bus Stop

If you are coming from Terminal Bersepadu Selatan (TBS), you will need to hop on the train at the Sri Petaling Line at Bandar Tasik Selatan and then switch over to the KL Monorail at Hang Tuah which acts as the interchange station. Get on the KL Monorail by Jalan Tun Sambathan next to Nu Sentral shopping mall and stop 4 stations away to reach the Imbi station.
Alternatively, you can also choose to travel with KTM Komuter from TBS to KL Sentral, but you would need to walk through the Nu Sentral mall to get to the KL Monorail station, which requires a separate ticket just to get to the Imbi station.
The train station is located right in front of Berjaya Times Square the mall, as well as the bus station by the main road. The Berjaya Times Square Bus Stop also acts as the main point for express buses operating within the country. If this location is your departure point, you will find 3 bus stops available with two of them situated on Jalan Imbi and the other one at Jalan Pudu.
Things to do around Berjaya Times Square Bus Stop
Smacked right in the middle of the city centre, Berjaya Times Square has been around since 2003 with over 1000 retail shops. Located right next to Bukit Bintang, this mall is constantly buzzing with visitors as it has everything for everyone. Besides the many retail shops available in the mall, you will be able to find lots of all types of restaurants to satisfy your cravings. There is also an amusement park located inside the building for you to enjoy with the children. You can also choose to book an accommodation with Berjaya Times Square Hotel connected with the mall as well for all your city conveniences. This makes Berjaya Times Square different from the other shopping malls in the city centre.
You are spoiled for choices with lots of shopping malls located within walking distance when you arrive at the Berjaya Times Square Bus Stop. Just across from the mall within walking distance is Low Yat Plaza which is famous for electronics and IT products at great prices that you can even bargain for across the 7 levels. Then right beside it is the ever-popular Sungei Wang Plaza which translates as "River of Gold" in Malay that is famous for those who are looking for affordable items from clothes to electronics. This mall will keep you occupied for hours! Cross the bridge and you will arrive at another mall KL Plaza for more shopping before exiting to explore Fahrenheit 88 mall located right next to it. Located next to it is Starhill Gallery, which is perfect for those who are looking to do some luxury shopping. Cross the road and you will arrive at the grand Pavilion KL mall which occupies the prime location of Bukit Bintang. There is an overhead pedestrian bridge that links to Suria KLCC by the Petronas Twin Towers that can be reached by foot within 20 minutes from Pavilion KL.
There are lots to eat at the mentioned places above in the malls, but you can also try out all the great food surrounding Berjaya Times Square. From local to international cuisines, the options are endless as you stroll the streets nearby, especially Jalan Imbi which is packed with great Chinese restaurants. Take a 10-minute walk from Berjaya Times Square Bus Stop to check out what the locals and tourists are feasting at the always-busy street of Jalan Alor. From the famous Wong Ah Wah Restaurant to the Meng Kee Grill Fish Restaurant, you are spoiled for choices. Tired of the endless shopping and walking? Stop by for massage that is widely-available around Bukit Bintang to pamper yourself after a long day of exploring in the city centre.
Bus Operators & Schedule
This is a very popular stop for travellers going in and out of Singapore without having to make various transfers just to get to the city centre. Berjaya Times Square Bus Stop in Kuala Lumpur serves plenty of trips to Singapore and back to locations such as Golden Mile Tower, Boon Lay, City Plaza Singapore and Park Royal Hotel (Kitchener) for your convenience. Some of the operators that provide services between these two cities are Golden Coach Express, Starmart Express, The One Travel & Tours, Transtar Travel Pte Ltd and Yakin Pacific Express (Singapore). All you need to do is to purchase your ticket online through Easybook within minutes without having to leave your house to queue up at the counter. Follow this easy-to-follow guide to get your next Malaysia and Singapore travels.
Avoid the hassle of going through the airport hassle and book a bus ticket to arrive at Berjaya Times Square Bus Stop in the city centre just by purchasing them on Easybook. This bus station is easy to get to and strategically located, within reach to the shopping belt of Kuala Lumpur. Get your ticket online at Easybook or download our mobile app to book the bus tickets at your fingertips. We look forward to serving you soon!