Bus from Johor Bahru to Mersing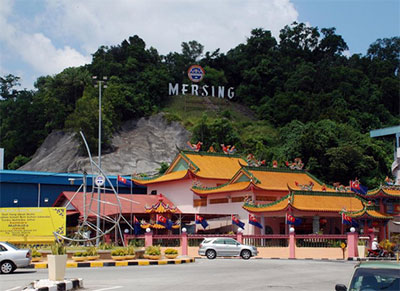 From eye-catching and remarkable religious landmarks to a thriving underwater eco-system at nearby beaches, Mersing is a great destination to visit for a quick weekend getaway. Travelers who want to take longer vacations also have the option of making Mersing their jump-off point to the stunning scuba paradise that is Pulau Tioman, also known as Tioman Island or just simply Tioman. With both destinations, the best and most affordable way to see them is by grabbing a bus from Johor Bahru to Mersing or a bus from Johor Bahru to Tioman. Relatively quick, simple to navigate and easy on the pockets, the bus service is a favored by the locals of Singapore, Malaysians and international travelers alike.
The service for the bus from Johor Bahru leaves from the Larkin Bus Terminal and takes roughly two hours to reach the Mersing Bus Terminal. There are a few reliable bus lines that service the route between Johor Bahru's Larkin Bus Terminal to Mersing regularly.
Causeway Link Express makes the journey seven days a week at four different schedules. A bus leaves in the morning, afternoon and evening from Monday to Saturday while Sunday's only has one trip leaving in the afternoon.
Tickets on Causeway Link Express are RM12.80 for adults and RM9.60 for children. Alternatively, S&S International Express also services the route with two trips in the morning and two more in the afternoon. Tickets on S&S International cost RM12.70 for adults and RM 9.50 for children.
Transnasional runs its Johor trips to Mersing exclusively from the Larkin Terminal and offers three to four trips per day at various schedules for RM17.60 (Adults) and RM13.20 (Children). Other liners that run a bus from Johor Bahru to Mersing, and by extension a bus from Johor Bahru to Tioman, are Plusliner and Cepat & Cekap Express for RM17.60 and RM10.70 respectively. Like all of the other bus services, Plusliner and Cepat & Cekap also have at least two trips per day and run seven days a week.
Travelers who intend to spend their holidays in Mersing will find practically everything within walking distance upon arrival at the Mersing Bus Terminal. Since Mersing retains a small-town charm, all of the sights are relatively close by and the city is very easy to explore on foot.
Some of the must-see landmarks include the traditional Malaysian fishing boats at the Mersing River, a Hindi temple near the center of the town, the Mersing Mosque, which provides great views of the town from the top of a hill, as well as trips to the esplanade and the marine park. However, what most visitors tend to do is to immediately make their way to the gorgeous Tioman Island as it is very easy to get to from Mersing.
To get to Pulau Tioman, visitors will just need to take a 10-minute walk to the Mersing Jetty, or, for those with a lot of luggage or don't want to walk, take a quick cab ride to the port. From there, several Ferry Lines run trips to Tioman for an average price of RM25 – RM30 depending on what type of ferry is taken. Regular ferries take about two hours to reach Tioman while speed boat ferries are available and will take about 30 to 45 minutes.
For a seamless vacation and guaranteed transportation all throughout your trip, the best thing to do is to book your bus from Johor Bahru to Mersing or your bus from Johor Bahru to Tioman online. This way, travelers can avoid disappointment of missing busses or running out of seats on their preferred trips.
Get started quickly and book without hassles at easybook.com.