Best Guide from Selangor to Alor Setar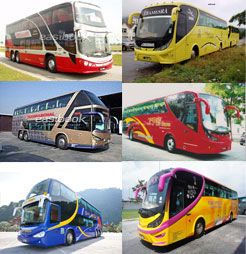 Alor Setar is the current state capital of Kedah, Malaysia. The excellent Alor Setar road network gives access to the Thailand border and other parts of Kedah. Alor Setar developed 45 kilometers from Malaysia-Thailand border and 93 kilometers from North Penang. The 1990s Menara Alor Setar is the major landmark here, a 165 meters tall tower built as a tourist attraction and telecommunication tower. Tourists flock this destination yearly, thanks to the accessibility brought about the road transport network by bus, proper infrastructure, and safety.
Travel guide fo bus from Selangor to Alor Setar
Easybook.com is your convenient and most preferred travel by bus from Selangor to Alor Setar . When you visit the Selangor district, you will find it flexible, faster and comfortable traveling by bus. It takes only a few hours to travel by bus from Selangor to Alor Setar. It costs less, it is very safe, very comfortable, and you get to explore this part of the world, the old town.
You have all the reasons to visit Alor Setar and its vintage neighborhood. About 12km to the west of Alor, you can pay a visit to the Kuala Kedah, a fishing port. The remains of the ancient Malay fort lie in this town, which guarded the Kedah from the naval attacks. The yellow Palace also called Oistana Kuning, a Royal Museum, and the Muzium Di-Raja. Some of the famous bus companies that offers the this bus services includes Plusliner, Sri Maju, Transnasional, D'Amour Enterprise, Era Mesra (Klang), KMK (Kajang) and heaps more. The famous pick-up points at Selangor is Putrajaya Sentral, Terminal Klang Sentral, Pudu Sentral, Shah Alam Bus Terminal and Kajang bus terminal.
Book online today and travel bus from Selangor to Alor Setar. Make your journey interesting, without any incidents, comfortable and memorable. Easybook.com bus operator is always ready to offer first class road transport at competitive prices.