Best Guide from Kuantan to Ipoh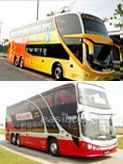 Travelling by bus from Kuantan to Ipoh is one the most affordable and fastest means of transport for a local or tourist. Easybook.com has stood as one of the most reputable on-line booking websites for travelers. Ipoh is one of most attractive and architectural creative cities in Malaysia. Traveler form Kuantan converge at Ipoh to enjoy the beautiful sceneries and the cosmopolitan feeling the city brings. The average duration by bus from Kuantan to Ipoh is usually is 5 hours otherwise it may usually take longer depending on traffic during peak or off-peak hours.
Travel guide for bus from Kuantan to Ipoh
The ticket price for a bus from Kuantan to Ipoh through Easybook.com ranges form RM.47 to RM.52, also based on whether its a peak or off-peak hour. Another factor that may affect the ticket price is the type of bus that book through the Easybook.com website. Using the Konsortium Bas Ekspres it will cost you RM. 50.9 to reach Perak state where Ipoh city is located. One can board buses at Kuantan Sentral Terminal or at the Kuantan Continental Hotel.
The main bus serving the Kuantan to Ipoh route is the Konsortium Bas Ekspress, followed by Cepat and Cekap Express then finally Nini Express. Konsortium is one of the largest bus travel companies in Asia. They offer both VIP and normal seats for their clients. The passengers will often alight within the state of Perak and thereafter user other means to reach Ipoh. These three bus companies will usually drop off their passengers at Amanjaya Bus Terminal or at Jalan Bendahara.
The main benefit of booking bus tickets on-line through Easybook.com is the speed at which the ticket is processed. In addition, its affordability and convenience for the locals has increased revenue for Konsortium Bas Ekspres which has led to Konsortium improving the amenities inside their buses; comfortable seats and TV provisions.