Best Guide from Kuching to Miri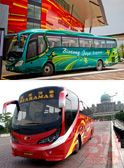 Kuching city has derived its name from kucing a Malay word which means a cat, many individuals in the local area refer it as the cat city but these name likely comes from the Chinese word referred to a port "Gu Chin". Kuching is a small city of which you which you can just walk around but it's very interesting in that it can keep you for some days for you to explore Sarawak. Kuching city is a very safe and relatively clean place for your stay .Locals of Kuching city take pride that their city is the cleanest city in Malaysia with diverse cultures so you need to be totally prepared with a different experience from the other cities in Malaysia. Do not hesitate to inquire direction if you doubt that you are getting lost in Kuching city since the locals here are helpful.
Miri town is a cosmopolitan town, it is hosting expatriates from all over the world who have come there to work in the multinational oil and gas companies in Miri. Miri has got a diversified population which is consisting of the Malay, Iban, Melanau, Bidayuh, Chinese and many other ethnic groups. Miri also has international students from the foreign universities who are based on the expatriates from the international corporations who help in adding spice to Miri. You need to be free when you make a tour in Miri town since the locals here are very helpful when it comes to giving direction and any help you may need.
The bus operating from Kuching to Miri are customer friendly in that they are safe and environment friendly. If you are planning to travel from Kuching to Miri by bus you rather book your bus online since you will be able to save your money from traveling to the counter twice .You will also avoid queuing to buy a ticket for your journey. So just buy your ticket now and pay for it later using your credit card.