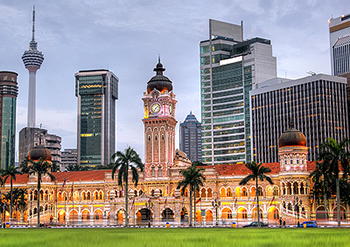 Travelling by bus to Kuala Lumpur
Buses are one of the most convenient forms of transportation as compared to others. It has its own unique features along with services for passengers' comfort & safe travel. If you are looking for buses to Kuala Lumpur, then you have come to the right place as one can get various express bus services to Kuala Lumpur with added benefit and services. Kuala Lumpur is a major hub of tourism in South East Asia as it has various tourist attractions along with best in class hospitality. The luxury coaches of the buses allow passengers to enjoy memorable moments during their journey, while reveling in the scenic beauty outside.
Kuala Lumpur Bus Terminals
There are various pick up and drop off points in Kuala Lumpur. One shouldn't worry much as there are endless options for traveling from one place to another through luxury coaches and express bus services in Kuala Lumpur. In fact, one can avail endless options at various Kuala Lumpur Bus Terminals. Express bus services are one of the most popular in Kuala Lumpur as you get cheap bus ticket prices along with detailed trip information.
Some of the main bus terminals in KL include: Pudu Sentral Bus Terminal, Hentian Duta Bus Terminal, Hentian Putra Bus Terminal, Pekeliling Bus Terminal, Terminal Bersepadu Selatan (TBS), Berjaya Times Square Bus Stop
Coach Companies going to Kuala Lumpur
Easybook.com is associated with some of the prominent bus companies in Kuala Lumpur. These coach companies have a great reputation of serving some of the best in class services to their passengers, as they operate modern fleet of buses with fast and reliable services. Now you can book your bus tickets in seconds, as bus tickets are generated online with trip details. Passengers have the feasibility to use various coach features such as television, Wi-Fi, reclining seats etc. Moreover, the tickets issued online have all the details, such as pick up and drop off points along with departure date and time.
Some of the well-known express buses to KL from Penang include: Billion Stars, Konsortium, Nice, Plusliner
Some of the well-known express buses to KL from Ipoh include: S&S International Express, Transnasional, Cepat&Cekap Express, Pacific Express (Ipoh)
Easybook.com is known for its exceptional ticketing services. Tickets are available for buses plying from prominent places in Malaysia such as Berjaya Times Square, Ancasa Hotel, Batu Tiga, Bukit Bintang, Bukit Jalil, Jalan Bandar, Hotel Istana and many more. It covers some of the major regions in Kuala Lumpur along with nearby states. The schedule of buses plying from Kuala Lumpur to other states is quite simple as one can book bus tickets using endless features such as departure time and dates. Moreover, hundreds of buses ply as per the schedule mentioned on the trip details. So, you can easily book your tickets on Easybook.com.
Pricing and Departure Location
Are you aware that Easybook.com charges the most convenient rates to its customers- lower than the counter value? The bus ticket prices vary from place to place as it depends upon the services offered from various coach companies. It usually ranges reasonably well with discounts and additional benefits on future bookings. Furthermore, there are several departure locations so you can easily get around the city without any hassle of booking tickets at long queue counters.