Best Guide from Seremban to Alor Setar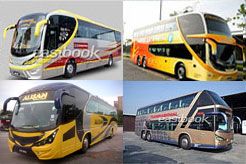 Many peoples travel to Alor Setar for various reasons; it can be due to different and diverse attraction found around this place or business. Many of them consider bus travel for tour. It can be due to different amazing attractions found along the way or comfortable travel offered by buses in this route. The travel duration from Seremban to Alor Setar is medium and only takes 5 to 6 hours.
Travel Guide fo Bus from Seremban to Alor Setar
Unlike other means that will require you to spend much for bus from Seremban to Alor Setar tour due to distance, bus enable you to enjoy very affordable services costing from MYR30 onwards. Besides that, by booking bus for this route through easybook.com, you are able to enjoy discounted rates particularly after linking easybook.com facebook page .
Booking services offered by easybook.com are very diverse and unique. In this website you are given a wide range of buses to choose from. For instance, Transnasional , Golden Coach Express, S&S international (M) express, KPB Express and Cepat & Cekap Express are very reliable and comfortable bus travel services provider in this route.
You need not to worry if your preferred destination is along the way since you will be able to identify your specific destination at the booking office. Some of the pick-up points along the way by bus from Terminal One Seremban bus terminal to Alor Setar include Kuala Lumpur, Pudu Sentral bus terminal, Hentian Duta . At Alor Setar the preferred bus terminal is Alor Setar Bus Terminal which is suitable and convenient for passengers who needs to connect using other means to their preferred destination.
All buses offered in easybook.com are well maintained and equipped with necessary equipment such as air conditioner and comfortable seat to make your journey enjoyable and fun. Besides that, all buses offer refreshment moment along the way to ensure passengers are comfortable while traveling. Booking though easybook.com is very easy and only needs internet access. Besides that all necessary information about the route is provided online to make it easier for you to book. Booking through this site is highly reliable and safe and that's why it is the largest booking site.