Best Guide from Kangar to Melaka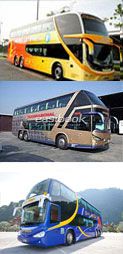 Malaysia is a beautiful country to visit; every single place of it bears a great mix of tradition and culture. That is why so many people used to visit this picturesque country so many times. Obviously, there are several ways of communication from one place to another in the form of air, train and bus. Out of all those, the bus journey in Malaysia holds a significant place as it is not only a smooth journey but also a relaxing one. With beautiful backdrop beside, the journey in bus truly an amazing one to remember forever.
Travel guide for bus from Kangar to Melaka
Kangar is in the northern most point of Peninsular Malaysia and is located by the River Perlis. The journey in bus from Kangar to Melaka takes nearly 10 hours with various time slots for buses to leave Kangar. There are several options to arrange a ticket in these buses, but easybook.com is the best way to book ticket in advance and it is a very easy affair. With an adult fare of RM 55.00 and RM 41.30 for child, the buses used to provide utmost comfort. The hospitality provided in this form is simply the best and one can't forget such a long journey as it is equally enjoyable with smooth riding.
Commuters can pick up the bus Kangar Intercity Bus Terminal that is located just beside Jalan Bukit Lagi, the central place for bus from Kangar to Melaka . Buses used to leave Kangar in various time slots like 9.30 am, 7.30 pm and 9 pm. There are several pick up points in between the entire route and the buses are equipped with Wi-Fi, TV, power plug like options so that one can always feel the comfort out of this long journey in bus from Kangar to Melaka. Just need to log into easybook.com and have to book the ticket. Rest is the responsibility of the transport service to take the passenger to the destination without any discomfort.